Since starting my apologetics blogs about a decade ago, I have noticed a strange thing. Persons claiming to be Atheists will show up in my comments sections, saying horrible things- telling me I'm an idiot, calling me a liar, etc. And they show up a LOT. You sort of get used to it after a while, like the stench from that pile of laundry you have been meaning to get to for a couple of weeks. Oh, wait, it's April already? Ok so… well, the laundry has been a thing for a long time now. And it stinks. But you get used to it. That's all I'm saying.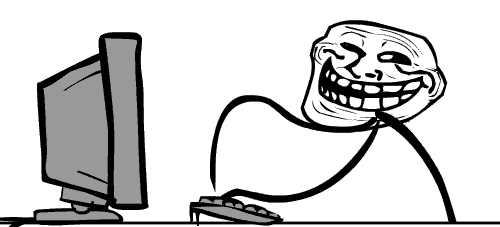 I've recently been handling Social Media for Creation Today- the Biblical apologetics ministry of Eric Hovind. His comments sections are always flooded with these same stupid Roach Clown comments. It's pathetic 3rd grade playground bully name calling with the INSINUATION that there are some kind of facts or arguments SOMEWHERE out there which, while never actually used in these comments, are imagined to exist so that they can get to the important work of telling some Christian they've never met that they are a fraud, liar, idiot, etc. And some of the names are the same ones, over and over.
This is either their hobby or their job, and they are dedicated to it.
For several years now I have been asking these "Atheists" WHY they bother to do this. Why take the time and effort to leave a comment which doesn't have any remote chance of changing my mind? Why not MAKE a solid, logical case against whatever point I had been making instead of simply letting me know that I am an idiot? To be perfectly frank, I think I have more evidence for my being an idiot than any of them do, so why not tell me something I DON'T know? I ask, but they never tell me.
To clarify, I am not referring to EVERY comment left by "atheists," as there is, from time to time, a comment or question from a self-professing "atheist" which actually tries to address the position I am asserting in my content. But those are the exception rather than the rule. The majority are, from what I can tell, intending only to communicate, "I don't understand your position (or mine), but you are wrong and I hate you."
The overwhelming majority want to ask questions but NOT hear any answers. Again, for years I have noted that they will throw out blusterous arguments and questions loaded with insinuation, but when they are answered they IMMEDIATELY change the subject and ask about something else without ANY acknowledgement that they had been answered. I've been asking them WHY they ask questions when they have no interest in the answers, and, again, I've gotten no explanation.
These "atheists" aren't making a case against any of our positions, interacting with the article or post on which they are leaving a comment, or saying anything which rises above the level of 3rd grade playground bully name calling. And yet many of them KEEP COMING BACK. Some of these people will subscribe so they can be SURE to know when new content comes out, just so they can leave a comment like, "Why don't you stop LYING all the time, you idiot? Science has PROVEN how stupid you are! LOL!"
Every day.
Some of these Roach Clowns are very FAITHFUL followers of Christian social media.
As many times as I have tried to get them to explain WHY they do this, I have never gotten an answer. In the rare instance they acknowledge that I have asked them at all, the answers have been self-contradictory, nonsensical, or weak attempts to change the subject. But I recently heard something which turned on that little power saving bulb in my head. A former atheist, now Christian, was talking about how he had wanted to find arguments against God's existence because he wanted to be sure he was right so he could kill himself. As long as he was uncertain that Christianity was false, he was afraid he would go to hell and so he continued to live, harassing Christians as much as possible, because he wanted one of them to finally say, "OK, you're right! It's all a lie and we know it!" But none ever did, so he lived long enough to become a Christian himself.
Hearing that is when it all made sense.  I suddenly understood why these angry foul-mouth collections of logical fallacies would show up SO FAITHFULLY to Christian blogs, videos, articles and social media to do nothing better than name calling. Why come back over and over AND OVER if they aren't going to make a legitimate attempt to persuade us that Christianity is not true? Here was the answer:
They are trying to convince themselves!
I've told a lot of "atheists" that I don't  believe they are actually stupid enough to BE an atheist, and eventually they all acknowledge that they are in fact Agnostics. Of course they aren't stupid enough to claim they KNOW GOD DOESN'T EXIST! But they WANT to believe that, so they call themselves "Atheist" knowing full well they don't actually MEAN "Atheist," and they come to Christian blogs and social media hoping to find an argument which can somehow convince them that Atheism isn't as stupid as it seems even to them. They want to convince US, because, they feel, if they can convince a Christian that Christianity is false, maybe they can believe it too. And they WANT to believe.
There are two things every "atheist" wants to do with unshaken confidence: Sin, and Kill Himself. Maybe not both at the same time, or in equal amounts, but when you consider the worldview of Atheism, it's adherence can want nothing more than the sticky, inky darkness of sin and depravity, and/or the sweet release of death. I've often wondered why more atheists don't kill themselves and it's been my suspicion that they don't because, somewhere in the dark recesses of their minds, they KNOW as well as I do, that if they die tonight, they wake up in hell tomorrow.
So they go on living, but they are addicted to some sin they are TRYING to enjoy… but somewhere in the shadows of their worldview lurks this GOD they are trying to ignore. They shut their eyes so they cannot see HIM- the God who made them- the God who SEES and JUDGES- trying to believe that if THEY can't see HIM, then maybe He can't see them… But the GUILT won't leave them alone. It GNAWS at them despite their bold professions of moral ambiguity. It haunts their waking life and their dreams even though they have bumper-stickers and FaceBook memes which insist that there ARE no absolutes… still they can't enjoy their sins and the guilt piles up until it is unbearable and all they want is to escape their guilt, even if it means death… but… to be or not to be?
That is the question.
And that's why they don't offer me good arguments or meaningful questions when they stop by, day after day. They don't care if I change my mind. They don't care if they can convince me. What they want is to convince themselves.
If Atheists could convince THEMSELVES,
I would never hear from them.
So if you are a Christian who faces the Roach Clowns, remember this- they aren't actually Atheists- they aren't that stupid and they know better. Besides, Paul tells us in Romans 1,
For what can be known about God is plain to them, because God has shown it to them.  For his invisible attributes, namely, his eternal power and divine nature, have been clearly perceived, ever since the creation of the world, in the things that have been made. So they are without excuse.
There are no Atheists. Paul makes that clear here in Romans. The secret is, THEY KNOW they are not Atheists, which is why they have all agreed that the definition of "Atheist" had to be changed to mean "Agnostic." If they claim to be an atheist, don't believe them. THEY don't believe it, so why should you? And when they pretend they know God doesn't exist, or that the Bible is wrong, do not believe them. THEY don't believe them. They want to sin and die, but they can't convince themselves. If they have questions and they care about the answer, then help them learn. If they don't want answers, don't waste your time. Tell them Jesus loves them, share the Gospel, and let them know they can come back when they care to hear the answers to their questions.
If you're the "Atheist" Troll who keeps visiting Christian sites faithfully wanting merely to find the weakness in their armor, or the unanswerable question- to convince you- then let me offer you some encouragement:
Jesus Loves you.
YES- God is your greatest fear, and if you die in your sin and face him you will face the most terrifying thing any person will ever face- the wrath of Holy God. That's why you can't kill yourself, because if you die in your sins you will NEVER BE FREE OF YOUR SIN AND GUILT. It will torment you forever. Literally FOREVER.
BUT-
GOD has made a way for your sins to be taken from you. Jesus died the death you deserve and paid the debt you owe so you can live free of that guilt, forgiven and free, and when you face him it will not be as the guilty enemy facing the righteous judge, but as the forgiven son being welcomed home.
For God so loved the world that he gave his one and only Son, that whoever believes in him shall not perish but have eternal life. For God did not send his Son into the world to condemn the world, but to save the world through him.
-John 3:16-17
Today, instead of trolling your favorite Christian blogs, go read Luke 15:11-32 and see for yourself how God treats filthy, sinful, rebellious fools who run away from him when they decide to come back to Him:
But while he was still a long way off, his father saw him and felt compassion, and ran and embraced him and kissed him.

And the son said to him, 'Father, I have sinned against heaven and before you. I am no longer worthy to be called your son.'

But the father said to his servants, 'Bring quickly the best robe, and put it on him, and put a ring on his hand, and shoes on his feet.  And bring the fattened calf and kill it, and let us eat and celebrate.  For this my son was dead, and is alive again; he was lost, and is found.' And they began to celebrate.
And while you will never find one Christian who has ALL OF THE ANSWERS- there are answers. Instead of trolling, just keep asking good questions. The truth will set you free.
#JesusLovesYou