I had an atheist write in to tell me that "Atheism requires no faith and is not a worldview." He argued that an atheist is a person who believes that the claim that there IS a God is "unsupported by good evidence."
Now, I think I have clearly explained what the tenets of orthodox Atheism are in several videos and blog posts. Clearly it is a worldview. In fact, I call it a religion. But on a deeper level, this person was mistaken. Atheism DOES require faith.

For instance, even on his own definition, the atheist has to believe- that is, have faith in– the idea that there is no evidence proving God's existence. I mean, if you don't put your faith in THAT proposition, why would you call yourself an atheist? And once you decide something so foundation as to reject the existence of God, you DO have a worldview. That you can't see it doesn't make it go away.
Consider this:
Is it POSSIBLE that this person can KNOW that theism is "unsupported by good evidence"?
Is it possible that he knows enough to claim with certainty that theism is not supported by good evidence?
Is it even possible that he can say he knows all of the proposed or existing or possible evidence for God's existence, and then be able to logically reject all of it as insufficient with justifiable cause?
Could he ever prove, even to himself, that there IS NO GOOD EVIDENCE for God's existence? None in all the universe? None in all of human history? None in existence now but simply absent from the conversations he's had on FaceBook?
Obviously not. If he believes this claim, it is believed on blind faith, not on evidence.
This person MEANS to say he has not heard any evidence he accepts as convincing, but that is a VERY different claim. It is the difference between someone claiming "THERE IS NO EVIDENCE for a ROUND EARTH!" or that person saying "I have never heard anything I FEEL is convincing evidence for a round earth!"
This Atheist, like ALL atheists, must take on BLIND FAITH the assertion that there isn't sufficient evidence for the existence of God. He CANNOT claim it as a fact to be known nor as something observed or quantified. Atheism is indefensible. There is not a SINGLE argument which can be made in its favor. This is why Atheist must resort to rejecting ALL of the evidence and arguments FOR God's existence. However, the claim that THERE IS NO SUFFICIENT EVIDENCE for God's existence is a universal claim that NONE of them can ever make.
It would be like claiming there is NO EVIDENCE that an elephant has ever painted a picture. You may DOUBT that elephants can do such a thing, or that they would ever even want to. But you cannot say with CONFIDENCE that in all the jungles, circuses and zoos of the world that NOT ONE elephant has ever painted a picture and that NO EVIDENCE exists of such a painting. You could never PROVE conclusively that nowhere in the world is there evidence of a painting being made by an elephant. There is no scientific test nor mathematical theorem which would be used to argue for that position conclusively. You would have to make that claim on pure faith.
And then someone like me would come along and show you this.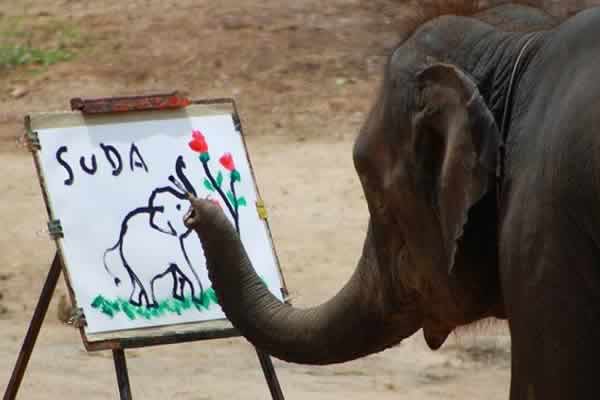 (That's an elephant painting a self portrait.)
At which point, if you're like the Atheists, you loudly insist that this is fake, offer no evidence that it is fake, and insist that you don't HAVE the burden of proof and so you don't HAVE to give reasons why you think it's a fake! It's ME who has to prove that this is a REAL elephant making a REAL painting! Somehow you get to simply reject photographic evidence with a hand waving dismissal, because, reasons.
And somehow you will continue to tell people that there is NO EVIDENCE for the existence of painting elephants.
In conclusion, I already know that some atheist is going to write in and tell me that Atheism is more like claiming that there is no evidence for an elephant having flown a motorcycle to the moon. He will not explain WHY this metaphor works. He will just assert it blindly as something which he hopes we will all agree could never happen, thus reflecting his feeling that God's existence is impossible. But when asked why God's existence is as impossible as an elephant flying to the moon on a motorcycle, he will wave his hand and dismiss the question, insisting that it is ME who has to do the proving. Because, you know. Reasons.
Want to learn more? I suggest you surf on over to Youtube.com/ABITOFORANGE
and check out the ATHEISM playlist!

#JesusLovesYou